Trailhead Badges Release 9 : September 21'
This month 29 Modules and 2 projects have been released on Trailhead. It was marked by the DreamForce event where among all new announcements, trailhead for slack was highlighted.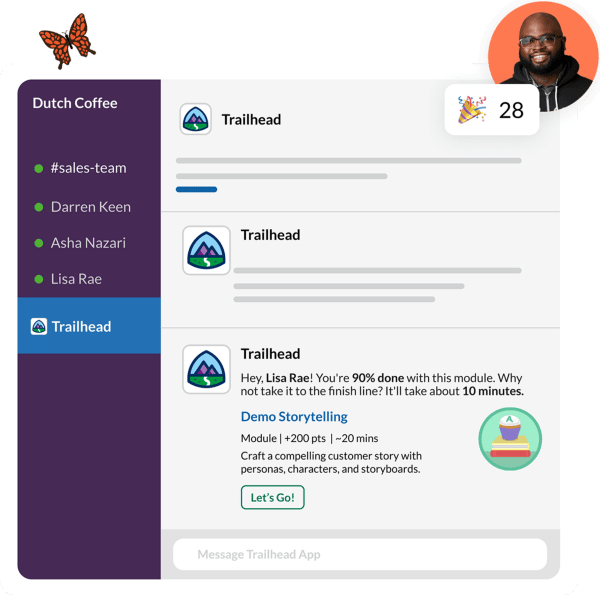 This new Trailhead integration let you manage learning goals, get learning reminders and Einstein-powered content recommendations directly in Slack.
You can track your progress, favorited, recommended and assigned learning content.
---

https://trailhead.salesforce.com/en/content/learn/modules/loyalty-programs-and-loyalty-management
https://trailhead.salesforce.com/en/content/learn/modules/postman-api-client
https://trailhead.salesforce.com/en/content/learn/modules/advanced-account-forecasting-with-manufacturing-cloud
https://trailhead.salesforce.com/en/content/learn/modules/set-up-a-loyalty-program
https://trailhead.salesforce.com/en/content/learn/modules/data-processing-engine-definition-modeling
https://trailhead.salesforce.com/en/content/learn/modules/data-processing-engine-in-loyalty-management
https://trailhead.salesforce.com/en/content/learn/modules/design-as-a-social-practice
https://trailhead.salesforce.com/en/content/learn/modules/lightning-design-system-development-for-designers
https://trailhead.salesforce.com/en/content/learn/modules/values-driven-design
https://trailhead.salesforce.com/en/content/learn/modules/omnistudio-developer-tools

https://trailhead.salesforce.com/en/content/learn/modules/email-and-calendar-integrations-quick-look
https://trailhead.salesforce.com/en/content/learn/modules/sustainability-for-salesforce-suppliers
https://trailhead.salesforce.com/en/content/learn/modules/unified-sales-and-rebate-management-processes

https://trailhead.salesforce.com/en/content/learn/modules/private-connect-inbound-connections
https://trailhead.salesforce.com/en/content/learn/modules/private-connect-outbound-connections
https://trailhead.salesforce.com/en/content/learn/modules/set-up-your-salesforce-mobile-developer-tools-for-lightning-web-components

https://trailhead.salesforce.com/en/content/learn/modules/lightning-design-system-development-for-designers

https://trailhead.salesforce.com/en/content/learn/modules/interaction-summaries-in-financial-services-cloud

https://trailhead.salesforce.com/en/content/learn/modules/twilio-data-sync-with-mulesoft-composer
https://trailhead.salesforce.com/en/content/learn/modules/microsoft-teams-data-sync-with-mulesoft-composer

https://trailhead.salesforce.com/en/content/learn/modules/digital-transformation-at-educational-institutions-quick-look

https://trailhead.salesforce.com/en/content/learn/modules/omnistudio-developer-tools

https://trailhead.salesforce.com/en/content/learn/modules/pardot-api-requests

https://trailhead.salesforce.com/en/content/learn/modules/marketing-cloud-roles-and-permissions-quick-look
https://trailhead.salesforce.com/en/content/learn/modules/email-deliverability-essentials
https://trailhead.salesforce.com/en/content/learn/modules/data-analysis-in-datorama
https://trailhead.salesforce.com/en/content/learn/modules/data-harmonization-in-datorama
https://trailhead.salesforce.com/en/content/learn/modules/datorama-reports-advanced-in-marketing-cloud
https://trailhead.salesforce.com/en/content/learn/modules/roles-and-responsibilities-for-marketing-teams

https://trailhead.salesforce.com/en/content/learn/modules/salesforce-b2c-commerce-promotions-dashboards

https://trailhead.salesforce.com/en/content/learn/modules/salesforceorg-elevate-for-fundraising-and-advancement
---
Thanks for reading this new article of the Trailhead Tracker Series. Find all badges released updated every day on https://dragondx-trailhead-badge-track.herokuapp.com/
Découvrez d'autres articles du blog